Recently, the Changzhou Municipal Party Committee and the Municipal Government issued the "Three-year Action Plan for the Construction of Changzhou Intelligent Industrial Manufacturing Star City (2020-2022)". By 2022, the industrial economic scale with the core of ten major manufacturing clusters of high-end equipment, automobiles and core parts (including new energy vehicles), new generation information technology, new materials and new energy, will exceed 150 billion yuan. Focusing on accelerating the transformation and upgrading of new industrial clusters and traditional industrial clusters, the "Three-Year Action Plan" puts forward clear goals from six aspects: cluster cultivation, strengthening and expansion, innovative development, intelligent upgrading, green development and talent support.
On the afternoon of 17th September, Chen Jinhu, mayor of Changzhou City, and his entourage handled the work on the key proposal of "Promoting the Development of Changzhou High-Quality Intelligent Manufacturing ", visiting Changzhou Huashu Jinming Intelligent Equipment Technology Research Institute Co., Ltd. for guidance, recepted and accompanied by Shen can, general manager of Huashu Jinming.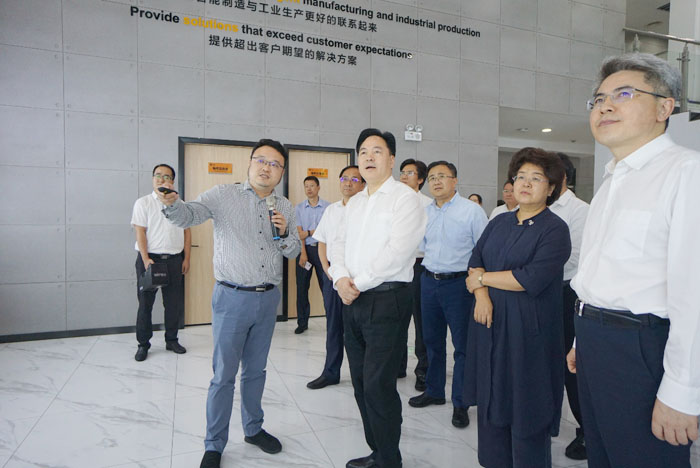 As a representative high-tech enterprise in Changzhou, Huashu Jinming has made continuous breakthroughs in the core technology of intelligent manufacturing and system integration, and has built a number of intelligent production lines with leading production technology levels at home and abroad, and demonstration intelligent factories of industry representative level. Shen can, general manager of Huashu Jinming, first led Mayor Chen to the exhibition hall, and introduced the development status of the company, the representative projects of various business departments, key domestic and foreign customers, as well as the latest technological breakthroughs and project applications.
For Huashu Jinming's technological breakthrough at the present stage, Mayor Chen gave affirmation and encouragement. He said that he will deeply implement the innovation-driven strategy, and accelerate the construction of technological innovation and industrial innovation system with enterprise as the main body, market as the guidance and deep integration of Industry-University-Research. Huashu Jinming should continue to give play to its advantages and constantly improve its ability of differentiated competition.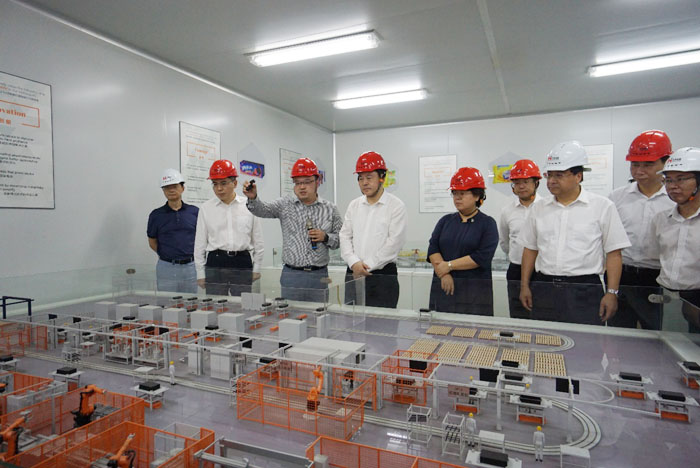 Afterwards, Mayor Chen and his entourage paid a visit to Huashu Jinming intelligent manufacturing workshop, in which a large-scale production line of more than 50 meters was particularly noticeable.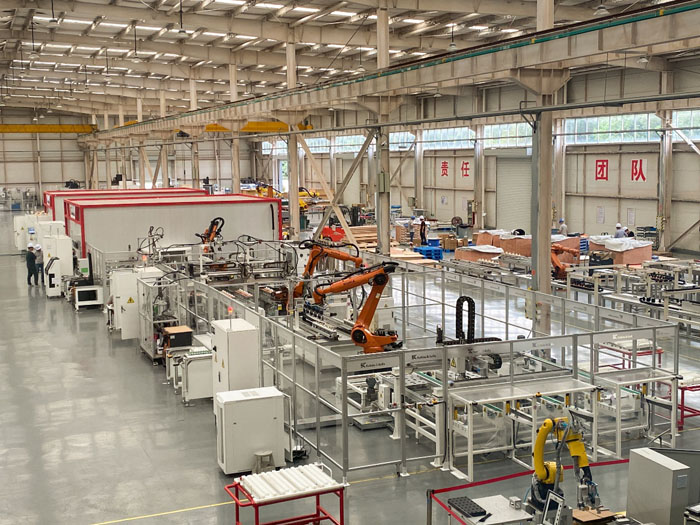 This production line is a full-automatic prismatic module assembly line which will be exported to overseas. The whole production line adopts the information acquisition module to monitor the whole line, and the central control system controls the whole process. The production process is of high degree of automation, adopting robot technology instead of manual production and a very few stations set with manual intervention. It uses advanced prismatic cell stacking technology, tension rod welding and busbar laser welding technology, plasma cleaning technology and OCV testing technology to ensure the high quality and consistency of product assembly.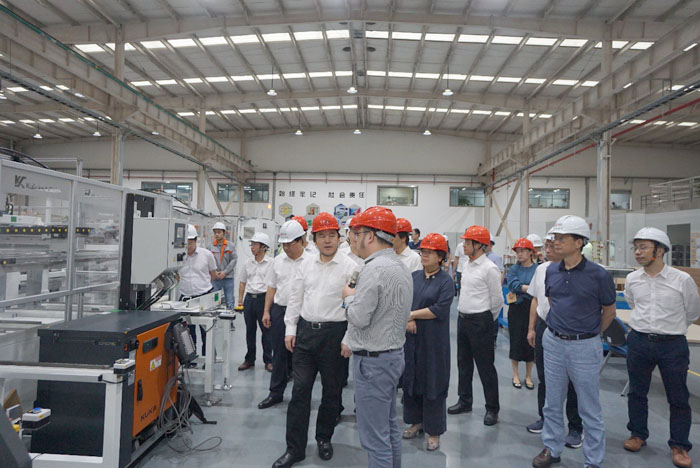 At the end of the visit, Mayor Chen pointed out that it is necessary to fully implement the spirit of General Secretary Xi.Jinping's important speech, always insist on leading development with innovation, and constantly enhance the independent innovation capability of enterprises, so as to promote the transformation and upgrading of traditional industries and accelerate the cultivation and growth of emerging industries in Changzhou.